Custom Homes Archives by MAM PROJECTS
Custom Homes
There's something wonderful and fulfilling about a house built with your visions and stamp on it. So when it's time to make your own nest, MAM Projects can design and build your dream home that is uniquely you.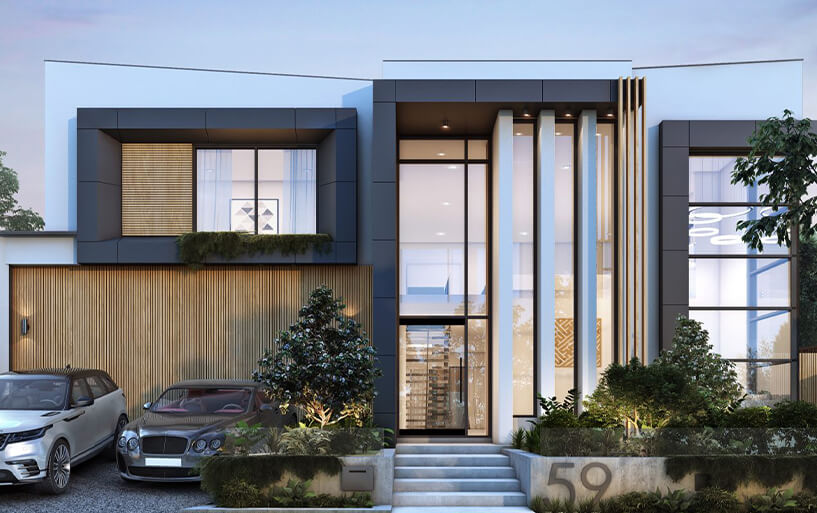 Custom Home Builders Sydney: Making Your Dream Home a Reality
At MAM Projects, we are passionate about custom home building and designs. With years of experience in custom-built new homes, we have the expertise to bring your dream home to life. Our team is dedicated to creating amazing new builds with stunning aesthetics that will last a lifetime. We pride ourselves on our quality craftsmanship, attention to detail and commitment to excellence - no matter how big or small the project.
Unique Custom Home Designs Tailored To Your Needs
When it comes to designing your dream home, there is no one size fits all solution – which is why at MAM Projects, we take great pride in offering custom building designs tailored specifically for each client's individual needs. Our experienced designers use state-of-the-art 3D modelling software to create stunning 3D visuals of what your completed custom-built new homes could look like before any construction begins; this helps us ensure that everything runs smoothly during the build process as well as gives you peace of mind knowing exactly what you are getting before committing yourself financially or emotionally.
Quality Craftsmanship & Attention To Detail
At MAM Projects, our experienced custom home builders in Sydney understand that when it comes down to constructing a beautiful home, nothing beats good old-fashioned hard work and dedication. Every job is approached with precision planning so that all aspects come together perfectly from start to finish, from initial conception right through construction phases until completion - bringing your vision into reality has never been easier! What's more, we use only top-grade materials sourced locally here in Sydney, ensuring superior durability as well as the maximum value for money long-term investment-wise.
Comprehensive Range Of Building Solutions
No two projects are ever alike, which is why our friendly team offers an extensive range of building solutions, including dual occupancies, granny flat/studio, multi-dwelling, knock-down builds; renovations/extensions/additions; commercial fit-outs; plus much more… Whatever style or space requirements you may have - rest assured there's something available here at MAM Projects designed just for you! On top of all this, we are reputed luxury custom home builders so we have you covered in Sydney.
Other Services
Bring your project to life with MAM Projects. Our can-do attitude and reliable team have allowed us to build and deliver on even the most complex projects.
Our focus is on providing the best for you, which is why quality, integrity and transparency are at the core of our values.
Professional Project Management & AfterCare Support
We understand managing any custom build can be incredibly daunting, which is why all jobs undertaken by us include comprehensive project management support throughout each stage as standard practice, along with aftercare follow-up once construction is complete if need be. So don't worry about being overwhelmed by paperwork or drawn-out timelines.
How we got about paperwork:
Obtaining full building approval from the council requires a two-stage process. Initially, we submit a Development Application (DA), which outlines our plans for review and assessment; this may take between two to three months.
After obtaining DA Consent, we must acquire a Construction Certificate (CC). This involves submitting structural engineering drawings stamped by Sydney Water, paying the long service levy, and providing insurance certificates. Once approved - generally within three weeks - work on the project can commence.
Alternatively, applying for a Complying Development Certificate (CDC) combines the DA and CC processes into one application. To expedite construction projects in certain areas zoned as complying with state rules, applicants may lodge their building proposal directly to an accredited certifier instead of going through the council.
So let us take care of everything, leaving time free for other important things like enjoying life in your gorgeous new abode instead!
Contact Us Today For Your Custom Built Dream Home In Sydney!
Ready? If yes, then give us a call today at 0405477589 or contact us via email at info@mamprojects.com.au, where one of our friendly staff members would be delighted to assist further in discussing potential options available based on specific needs and budget constraints accordingly…
Phone Number
0405477589
Call us any time from
Mon-Fri 9 am - 5 pm & Sat 9 am - 1:30pm